In the world of design, Pantone's Color of the Year serves as a guide to what's trending. And in 2023, it's all about pink…'Viva Magenta' specifically!
According to Pantone, the "powerful and empowering" colour injects excitement and drama into home interiors, "energising any environment with its dynamic vibrancy".
While bathrooms and kitchens have long been the domain of "all white everything", we think there's lots to gain from incorporating this fun, bold colour into the most functional spaces in your home.
Whether introduced through a painted wall, art, accent furniture or home décor, or acting as a bold accent in a pattern, Viva Magenta has the power to lift and transform the mood of your bathroom or kitchen. 
We know that incorporating a bold shade like Magenta into your home can seem a little daunting, so if you're inclined to stick with a neutral palette, this guide's for you! 
Soft furnishings
Incorporating magenta tones into soft furnishing is the advice Chiara Portesi, an interior designer at Porter Davis World Of Style, gives to those who want to dabble with the colour.
"The use of Viva Magenta would be ideal for interior application only – in soft furnishings and accents would be my pick," she told Homes to Love.
"Rather than applying large amounts, opt for gentle touches with this colour."
Within bathrooms and kitchens, Chiara says that Magenta also pairs beautifully with brass tapware.
"We're seeing a lot of aged brass being incorporated in Australian homes, which would make the perfect pairing with Viva Magenta."
We think the iconic Marimekko Unikko Bath Towel set from Living by Design is a great way to add a gentle touch of Magenta to your bathroom. 
A pop of colour
Viva Magenta packs a lot of drama in a small dose!
Without having to completely re-do your home's existing colour scheme, using Magenta as a pop of colour is the way to go.
In the kitchen, why not consider adding a realistic-looking faux floral arrangement to your countertop, like these orchids in a glass vase from Temple & Webster? Not only will they add a touch of colour and class – they're also perfect for those of us with a brown thumb!
Another kitchen countertop fixture for keen home bakers, the KitchenAid has been released in a vibrant pink shade akin to Viva Magenta in 2023.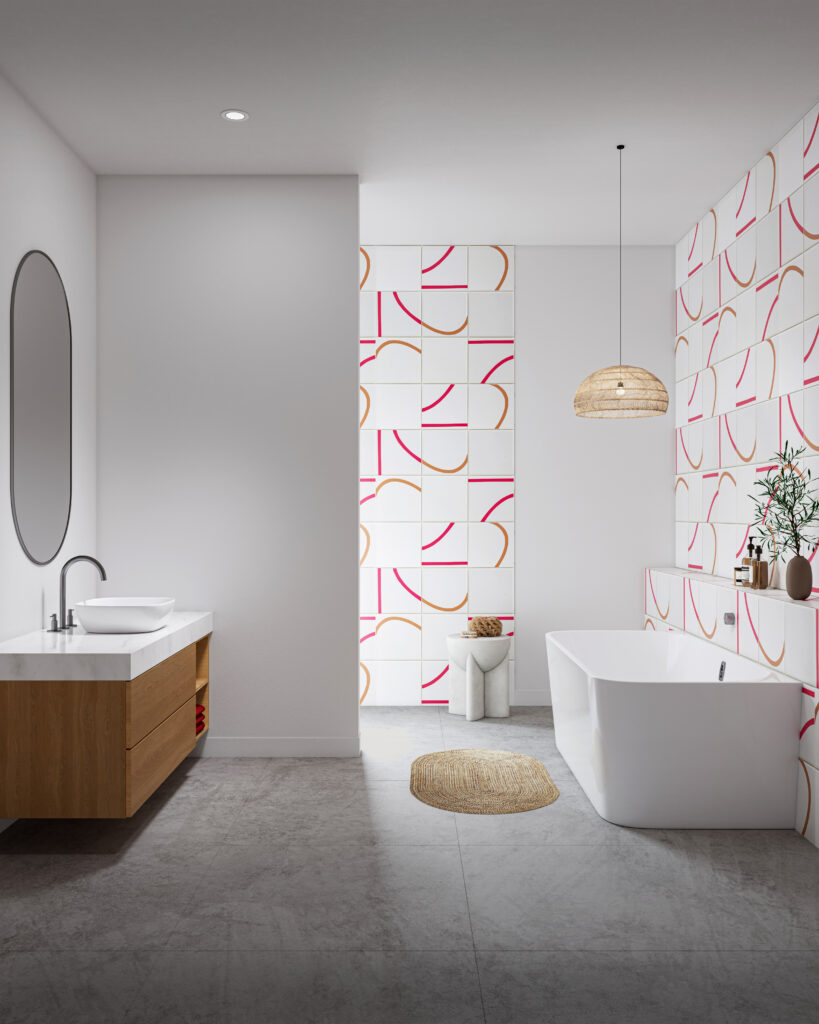 Less is more
When it comes to incorporating Viva Magenta into your home, it pays to remember the famous Coco Chanel quote: "Before you leave the house, look in the mirror and take one thing off."
According to Vogue, "when incorporating a striking colour like magenta into your interior palette, the art of restraint is paramount."
When a shade like magenta is paired with neutral colours and whites, it helps a space maintain a feeling of airiness.
Point in case? This stunning Plati 130 Back to Wall bath featuring Smartfill and our Limni 465 ceramic basin is set against a predominately white tiled backdrop, with pops of magenta and orange.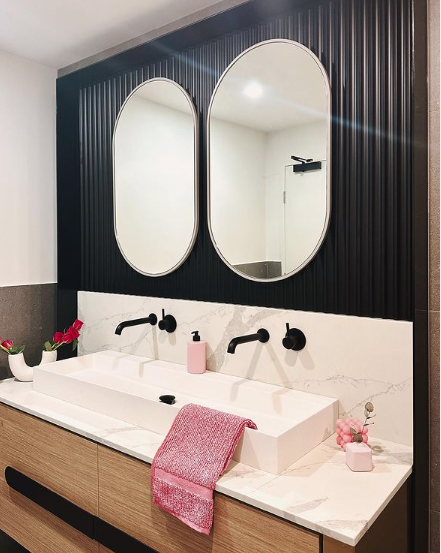 How are you incorporating Pantone's Colour of the Year, Viva Magenta, into your bathroom and kitchen! We'd love to see! Follow @seimaaustralia on Instagram and tag us in your post.